Fund A Need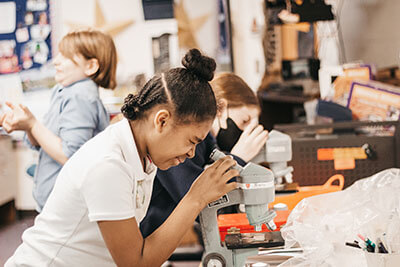 The MPA BOLD Innovation Fund provides funding for programmatic initiatives that enrich the culture and learning at MPA for students and faculty. Funded programs embody the BOLD approach: Building Opportunities for Learning Distinction. During the 2022-2023 summer and school year, teachers can access BOLD Innovation Fund dollars as seed funding to spur collaboration, interdisciplinary approaches, and innovative curricular or programmatic initiatives. The purpose of the fund is to encourage curriculum development and experimentation. The funds will support students to grow and thrive throughout their time at MPA and will be used across all three divisions.
Join us by making a gift to support the future of MPA students and faculty. Help us to dream big as we reimagine personalized pathways of learning for students through curricular innovation and leveraging advances in educational technology. Imagine what we can do in support of our students and the world as we take bold steps toward the future.
We invite you to raise your paddle in support of the fund a need at this year's spring auction. If you're unable to join us, make your commitment today by clicking here or email Jennifer Rogers, director of development and community engagement at jrogers@moundsparkacademy.org with your pledge.
You can make a gift today! or help us reach our fund a need goal during the live program on April 22!